Meet Dr. Karen L. Cottingham
As a child, Dr. Cottingham always thought she would pursue a career in the healthcare field, but it was ultimately orthodontics that grabbed her full attention. The results achieved through the orthodontic process are truly amazing, especially when it restores a person's confidence in his/her smile.
Today, Dr. Cottingham enjoys getting to know and helping all the wonderful families who visit her office. She strives to make every minute of the day enjoyable for her patients and staff with her warm and fun-loving personality. Dr. Cottingham is truly thankful to have one of the most rewarding jobs in the world, and she shares that enthusiasm and spirit with everyone she meets.
A Strong Beginning
A strong foundation of education and professional experience is important to instill the confidence and trust of our patients. Originally a native of Alabama, Dr. Cottingham received her bachelor's degree in 1991 from Troy University, in Troy, Alabama. She achieved her doctor of dental medicine (D.M.D.) degree from the University of Alabama at Birmingham in 1995, and practiced general dentistry for one year at the Veterans' Administration hospitals in Tuscaloosa and Birmingham, Alabama.
In 1996, Dr. Cottingham moved to Indiana to work on her master's degree in orthodontics at Indiana University School of Dentistry in Indianapolis. She achieved her master's degree in 1998 and resided as faculty until joining Clemons Orthodontics in 1999, working closely with Dr. Larry Clemons. Dr. Clemons retired in 2003 and Cottingham Orthodontics was born, with two offices on the west side of Indianapolis, one near 38th Street/I-465 and one in Avon, Indiana.
Continuing a Legacy of Knowledge and Advancement
To provide our patients with state-of-the-art smiles and the latest treatment techniques, Dr. Cottingham is an active member of several local, regional and national dental and orthodontic organizations, including the American Association of Orthodontists, the Great Lakes Association of Orthodontists, the Indiana Association of Orthodontists, the American and Indiana Dental Associations, and the Indianapolis District Dental Society. She exceeds the annual continuing education courses required by the profession.
Giving Back
Giving back to the community is one of Dr. Cottingham's passions. She donates time, money, and orthodontic services to Smiles Change Lives, Give Kids a Smile, and Donated Dental Services. Over the years, she has also granted several wishes for children of the Make-a-Wish Foundation. In addition, Dr. Cottingham supports many local philanthropic organizations, including Special Olympics of Indiana, Riley Hospital for Children, Sheltering Wings (Hendricks County domestic abuse shelter), United Way, Shop-with-a-Cop (providing school supplies for underprivileged children), and several community school, band, and sports programs.
Family and Fun
Dr. Cottingham and her husband live in northwest Indianapolis. They enjoy traveling and food together, especially any opportunity to combine the two! Whenever possible, these native Southerners love to escape cold Indiana winters and trek to warm places such as Puerto Rico or Florida. The Cottingham's also have a passion for music, performing occasionally in a "garage band" with friends to raise money for charity. Dr. Cottingham loves to sing, so it is not uncommon for patients to get serenaded while in the orthodontic chair!
Pets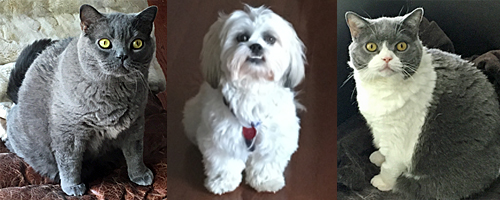 Dr. Cottingham is as passionate about animals as she is about orthodontics. She has a Lhasa Apso named Jackson and two British Shorthairs named Ozzy and Lily.